Baked Mac N' Cheese
I don't think I've ever met someone who doesn't like mac n' cheese. Whether it's from a box or a casserole dish, it always hits the spot—at least for me. I am kind of a cheese fanatic. The strange thing is, I realized the other day that I've never made mac n' cheese from scratch. I love baked mac n' cheese but I've never made it myself. Huh. So, I scoured all my favorite cooking blogs for the best-looking recipe I could find, and I happened upon it at Smitten Kitchen (one of my favorite blogs EVER). It's Martha Stewart's recipe, and it just looked and sounded so amazing that I just had to make it. And oh man, was it worth it.
Before you get all excited, you should probably know that this is kind of a pricy recipe to make (for mac n' cheese, anyway). You'll probably spend at least $10 on the cheese alone (gruyere and sharp white cheddar), depending on the quality of the cheese. So, if you're broke or a poor college student, you'd probably better stick to Kraft for now and spend your money on your gas bill so you can continue to use the stove.
With that said, if you've got some spare cash and you want some really, really good comfort food, make this recipe.
I halved the recipe below because there's only 2 of us, and we'll still have enough for at least one more serving each. I also used margarine and 2% milk and it turned out just fine, so don't be afraid to try to make this recipe a smidgen healthier…but this ain't no Weight Watchers recipe.

Baked Mac N' Cheese
From The Martha Stewart Living Cookbook via Smitten Kitchen
Serves 12
8 tablespoons (1 stick) unsalted butter, plus more for casserole
6 slices white bread, crusts removed, torn into 1/4- to l/2-inch pieces
5 1/2 cups milk
1/2 cup all-purpose flour
2 teaspoons coarse salt, plus more for water
1/4 teaspoon ground nutmeg
1/4 teaspoon freshly ground black pepper
1/4 teaspoon cayenne pepper
4 1/2 cups (about 18 ounces) grated sharp white cheddar cheese
2 cups (about 8 ounces) grated Gruyere or 1 1/4 cups (about 5 ounces) grated Pecorino Romano cheese
1 pound elbow macaroni
1. Preheat oven to 375°F. Butter a 3-quart casserole dish; set aside. Place the bread in a medium bowl. In a small saucepan over medium heat, melt 2 tablespoons butter. Pour the melted butter into the bowl with the bread, and toss. Set the breadcrumbs aside.
2. Warm the milk in a medium saucepan over medium heat. Melt the remaining 6 tablespoons butter in a high-sided skillet over medium heat. When the butter bubbles, add the flour. Cook, stirring, 1 minute.
3. While whisking, slowly pour in the hot milk a little at a time to keep mixture smooth. Continue cooking, whisking constantly, until the mixture bubbles and becomes thick, 8 to 12 minutes.
4. Remove the pan from the heat. Stir in salt, nutmeg, black pepper, cayenne pepper, 3 cups cheddar cheese, and 1 1/2 cups Gruyere (or 1 cup Pecorino Romano); set the cheese sauce aside.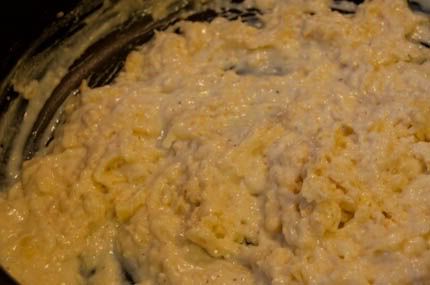 5. Cover a large pot of salted water, and bring to a boil. Cook the macaroni until the outside of pasta is cooked and the inside is underdone, 2 to 3 minutes. Transfer the macaroni to a colander, rinse under cold running water, and drain well. Stir the macaroni into the reserved cheese sauce.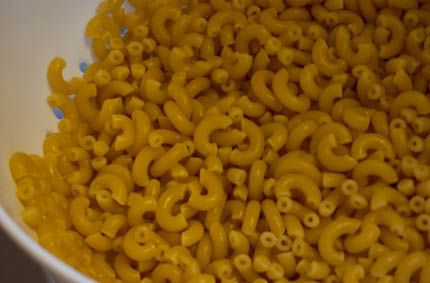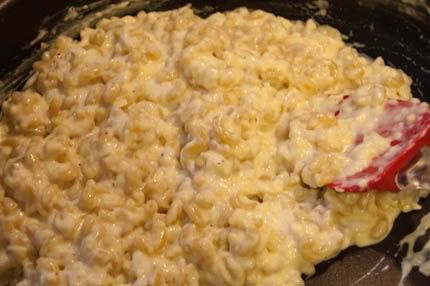 6. Pour the mixture into the prepared dish. Sprinkle the remaining 1 1/2 cups cheddar cheese, 1/2 cup Gruyere (or 1/4 cup Pecorino Romano), and the breadcrumbs over the top. Bake until golden brown, about 30 minutes (though we needed a bit more time to get it brown, but your oven may vary). Transfer the dish to a wire rack for 5 minutes; serve.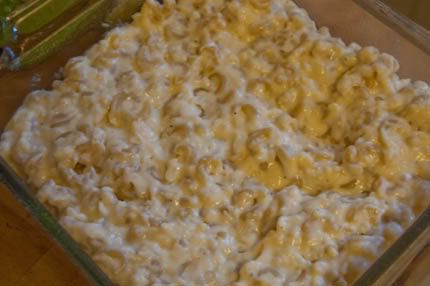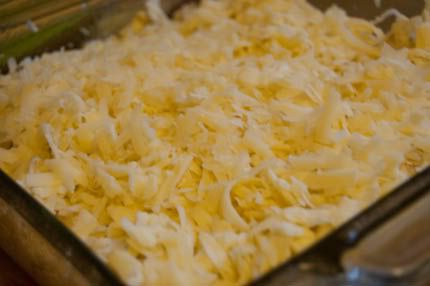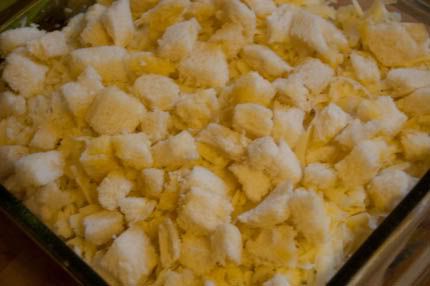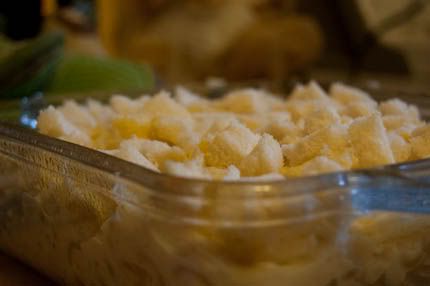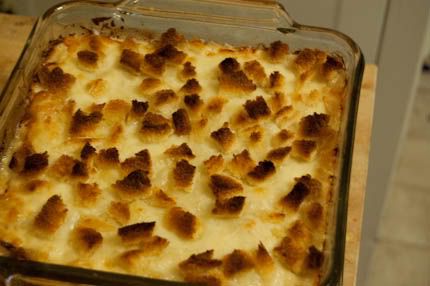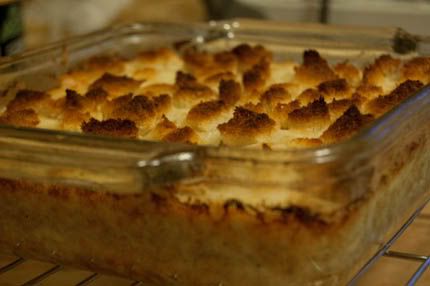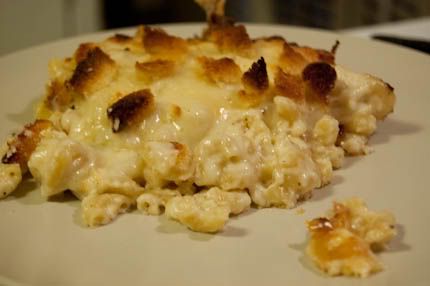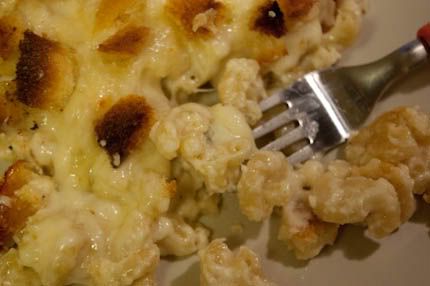 This stuff is so delicious. I wanted mine really browned on top, so the bread crumbs are a little too crispy, but it tasted just fine. Also they looked a lot less crispy in real life. I will definitely make this again sometime in the future, but I have to work on digesting the first round first. ;)