Focaccia Bread
With my leftover pizza dough from the other night (refrigerated in a non-airtight container), I decided to make focaccia bread. It's a delicious porous, chewy, Italian herb bread, and according to Artisan Bread in 5 Minutes a Day, the olive oil dough I'd made for pizza can also be made into focaccia. It's all in the technique. The bread came out awesome.
First things first: Click here for the olive oil dough recipe, featured in the pizza post from a few days ago. You'll need this dough to make this bread. The rest of this post is just how to turn it into focaccia.

Grease a cookie sheet with a dollop of olive oil, or put down parchment paper. I found that the olive oil worked really well because the dough does, in fact, already contain olive oil. Now, take a grapefruit-sized portion of your olive oil dough (approximately a pound) and form it quickly into a ball with lightly floured hands. Don't knead! Then plop it down on your greased cookie sheet and flatten it out a little until it's about 3/4-inch thick.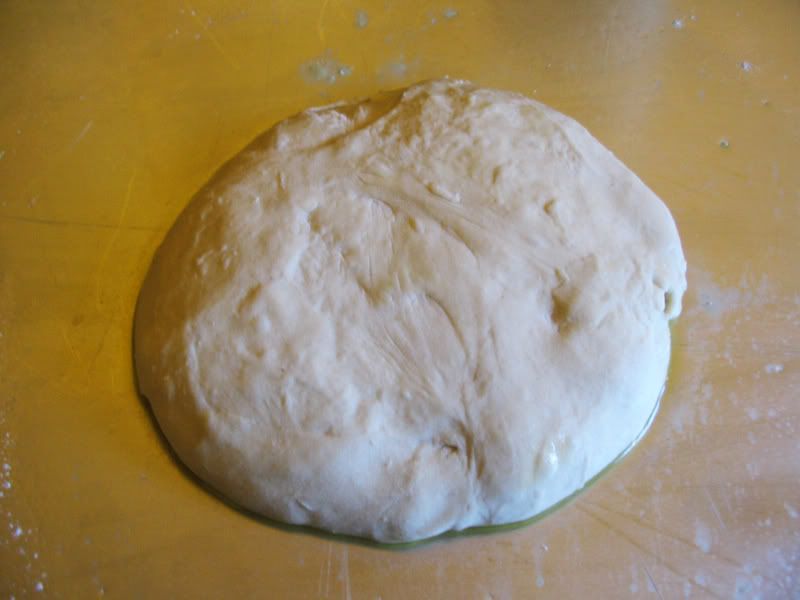 Sprinkle the top liberally with Italian herbs (I just used an Italian spice mix, but it's suggested that you use rosemary), then season with salt and black pepper. I used garlic salt instead of regular salt, which adds a nice subtle garlic flavor.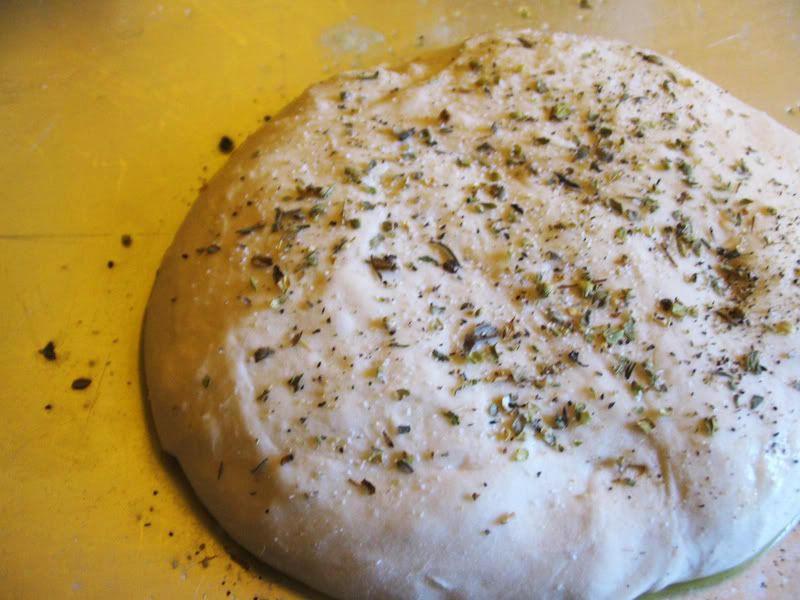 Don't be stingy!
Then drizzle olive oil over the top—only use about 1 teaspoon, which means you won't cover the surface. Just a light drizzle is fine!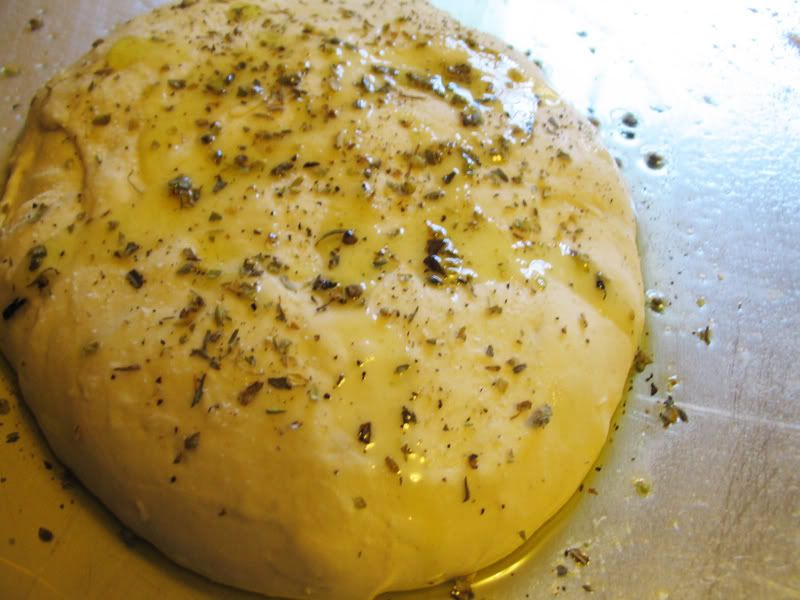 Now let it rest and rise for 20 minutes at room temperature.
Based on how long it will take your oven to preheat, start preheating at some point during the bread's resting time. Set it to 425 degrees and put your empty broiler tray on the bottom rack.
When it was time to bake, I sprinkled some shredded parmesan cheese over my loaf. The book suggests onions, but I didn't have any. If you do want to use onions, sautee them quickly to soften them (but DON'T brown them) before putting them on top of the loaf. Once you finish with your toppings, put the cookie sheet containing the loaf into the oven on the center rack.
Pour a cup of hot tap water into your broiler tray (be careful) and quickly close the oven door to trap the steam. This is essential!
Bake for about 25 minutes. Mine only took about 20 because my dough portion was probably a little smaller than suggested. The crust should be nice and medium-brown, and your loaf should have risen nicely.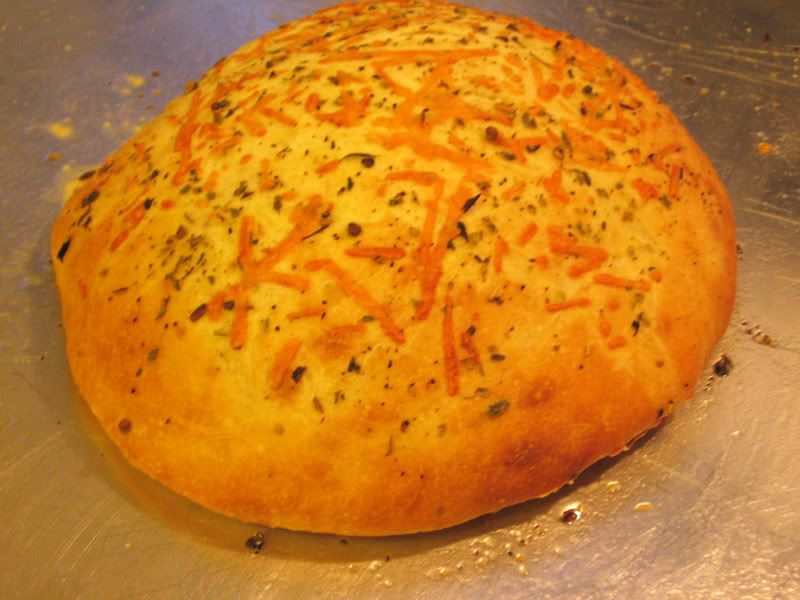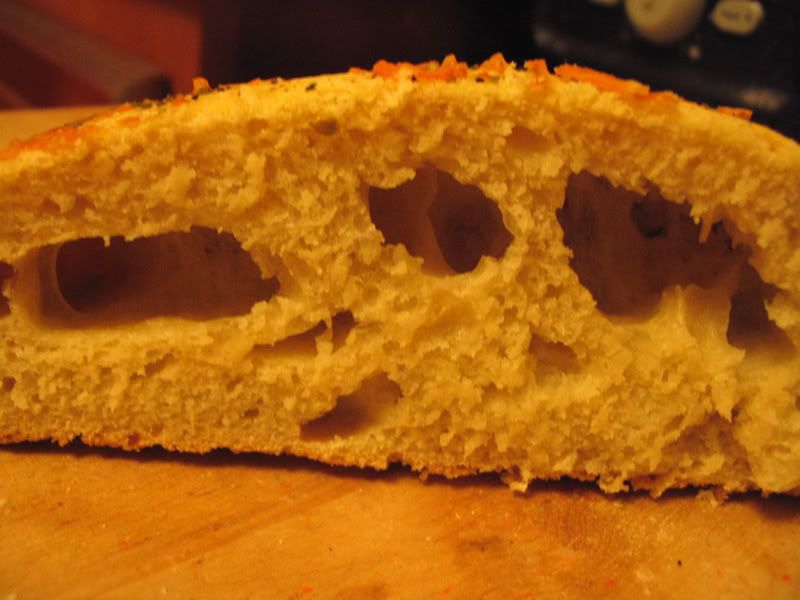 Air bubbles. These are good. That's what focaccia bread is supposed to look like.
Cut into wedges and enjoy!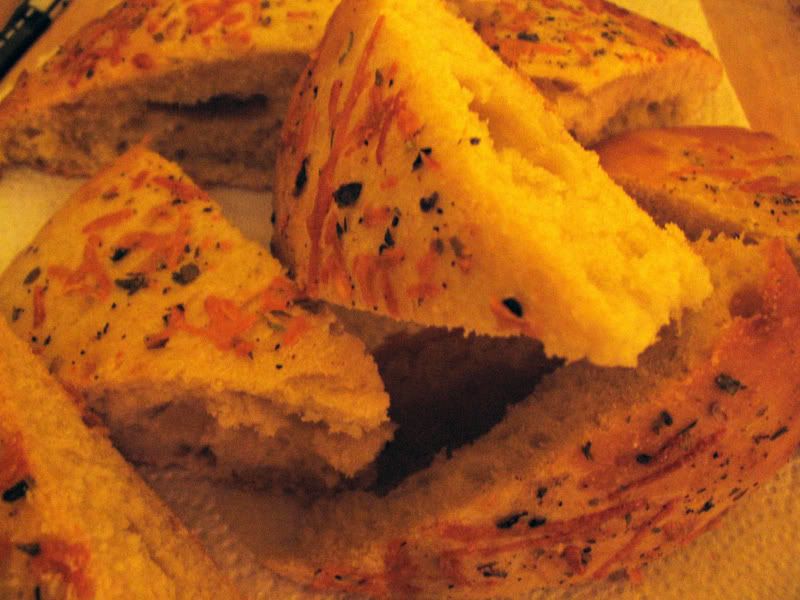 Seriously, this stuff is so good. And easy, too. :)