Pumpkin Cheesecake
I hope everyone's Thanksgiving was fantastic and filling. I know mine was! The dishes I contributed were maple glazed turkey, three-cheese mashed potatoes, and pumpkin cheesecake. I'll only be posting the latter, however—and it is the most worthy of posting anyway.
For the dessert this year, I didn't want to make a straight-up boring old pumpkin pie. I don't really like plain pumpkin pie, and I'm not an amazing pie-maker. I did want to involve pumpkin though, so pumpkin cheesecake was the logical choice.
This recipe comes from Paula Deen. I generally don't use her recipes because they're…well, kind of disgustingly fattening. However, I figured if there's anyone to whom I should turn for a ridiculously decadent dessert, it's Paula Deen. So I caved. And it was worth it…only this once, though. This cheesecake is so airy and creamy, and super easy to put together. No water baths, separate-crust-baking, extra-long bake times, etc.
You could easily lighten this recipe up with some simple swaps, but I decided to go full throttle with this one simply because it was Thanksgiving. Also, most of the time, when I'm cooking for other people, I don't like subjecting them to my experimental healthy-ingredient-swaps.

Ingredients
Crust:
1 3/4 cups graham cracker crumbs
3 tablespoons light brown sugar
1/2 teaspoon ground cinnamon
1 stick melted salted butter
Filling:
3 (8-ounce) packages cream cheese, at room temperature
1 (15-ounce) can pureed pumpkin
3 eggs plus 1 egg yolk
1/4 cup sour cream
1 1/2 cups sugar
1/2 teaspoon ground cinnamon
1/8 teaspoon fresh ground nutmeg
1/8 teaspoon ground cloves
2 tablespoon all-purpose flour
1 teaspoon vanilla extract
Directions
Preheat oven to 350 degrees F.
For crust:
In medium bowl, combine crumbs, sugar and cinnamon. Add melted butter. Press down flat into a 9-inch springform pan. Set aside.
For filling:
Beat cream cheese until smooth. Add pumpkin puree, eggs, egg yolk, sour cream, sugar and the spices. Add flour and vanilla. Beat together until well combined.
Pour into crust. Spread out evenly and place oven for 1 hour. Remove from the oven and let sit for 15 minutes. Cover with plastic wrap and refrigerate for 4 hours.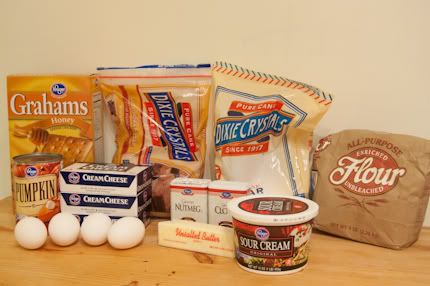 Here's your cast of characters. Not shown: vanilla and cinnamon. Not sure why.
First thing you have to do is crumbify your graham crackers. I got to use my spiffy new food processor! However, you can use a ziploc bag and a rolling pin or heavy pan if you have some frustrations to work out.
Combine your crumbs, brown sugar, and cinnamon. Then add your melted butter and kind of work it all together with your fingers a little bit.
Now get out your springform pan and press your crust into the bottom and about halfway up the sides. You could do it just on the bottom for a really thick bottom crust. I used a glass to make sure everything was pressed really flat and evenly with lots of pressure. You can use your fingers though.
When you're done, it should look something like this. It doesn't have to be perfect—after all, the filling will cover everything up.
Allll the cream cheese. Cream it for a few minutes before the rest of the ingredients are added. Make sure it's really soft or you have a really heavy-duty mixer. Mine was probably not as soft as it should've been, and my mixer is not the most formidable piece of kitchen equipment ever, so I ended up with some tiny cream cheese lumps. It really didn't matter as far as the deliciousness goes, but if you want to ensure the silkiness of your cheesecake, make sure your cream cheese is soft and smooth.
Now add your pumpkin, eggs, egg yolk, sour cream, the sugar and your spices and mix it all up. Make sure it's really well combined and as smooth as you can get it!
Mmm. Now pour all the filling into your prepared crust, smooth it out, and pop it in the oven.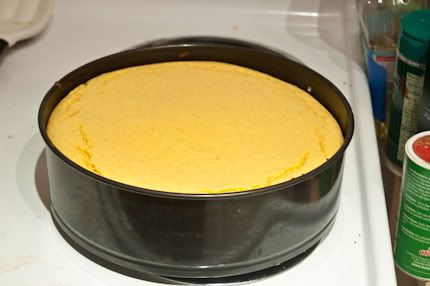 It'll come out looking something like this. There are cracks on top (presumably because this recipe doesn't use a water bath), but I promise you that absolutely no one will care once they taste this cheesecake. Serve it up with some whipped cream and enjoy!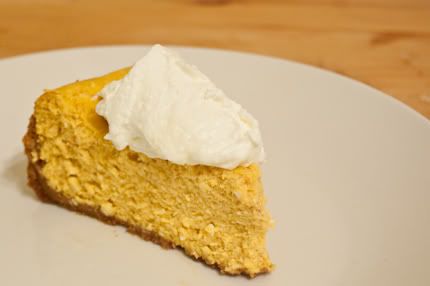 So fluffy and rich. And the crunchy crust is delicious too, with the touch of brown sugar and cinnamon. This is a perfect holiday dessert, whether it be Thanksgiving or any other winter holiday. Definitely a must for holiday dinners! Enjoy your holiday season!