Red Onion, Potato, and Goat Cheese Pizza
I made this pizza about a week ago and didn't take pictures of it. I guess I just wasn't in the mood. However, after tasting it, I knew that it was too delicious to not share with my loyal readers.
This was in the November issue of Cooking Light and when I first saw it, I thought it looked absolutely repulsive. Then, I broke it down. I thought, "I like potatoes. I like cheese. I like red onions. And I like pizza." So, obviously, I changed my mind and had to make it.
Thus, I made it again today with Pranas standing by to document the process, and now I would like to impart this knowledge to you. Go forth and make pizza.
NOTE: I chose not to sautee the onions this time. I did the first time I made this and I didn't particularly like the result, so I decided to leave them raw, and I liked it much better this time. I'm going to be posting the original instructions below, but you won't see the sauteeing in the photos. Do whatever you wish with your onions!

INGREDIENTS
7  ounces fingerling potatoes (about 5 potatoes)
1  teaspoon olive oil
1  medium red onion, cut into 1/2-inch-thick slices
1  (13.8-ounce) can refrigerated pizza crust dough
2  tablespoons cornmeal
1  cup  (4 ounces) shredded part-skim mozzarella cheese
3/4  cup  (3 ounces) crumbled goat cheese
1 garlic clove, minced
1 1/2  teaspoons  fresh thyme leaves
INSTRUCTIONS
1. Preheat oven to 450°.
2. Place potatoes in a saucepan; cover with water. Bring to a boil. Cook 10 minutes or until just tender; drain. Cool slightly; cut potatoes crosswise into 1/4-inch slices.
3. Heat olive oil in a large nonstick skillet over medium-high heat. Add onion to pan, and sauté 8 minutes or until tender.
4. Roll dough out on a lightly floured surface to a 14 x 10–inch rectangle. Sprinkle cornmeal over a large baking sheet; place dough on baking sheet. Sprinkle mozzarella evenly over dough. Arrange potatoes and onion over mozzarella; top evenly with goat cheese and garlic. Bake in lower third of oven at 450° for 15 minutes or until browned. Sprinkle with thyme; cut into 12 pieces.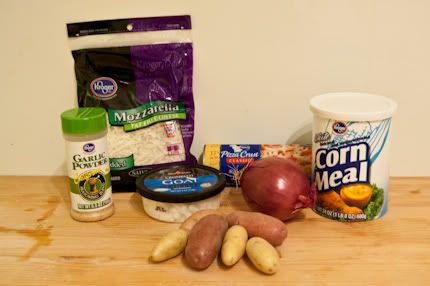 Your cast of characters. So few ingredients, I love it! Notice three changes: 1) I used fat-free mozzarella cheese instead of part skim, 2) I used garlic powder instead of fresh garlic (didn't have any on hand), 3) There's no thyme. I didn't have thyme, couldn't find it fresh, and I don't particularly care for it anyway. So THERE!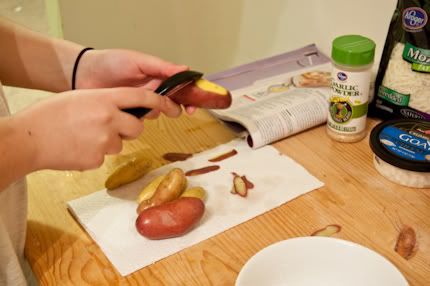 First, put some water on the stove to boil and set your oven to 450. In the meantime, skin your potatoes. You don't have to skin them if you don't want—but if you don't, make sure you clean them thoroughly.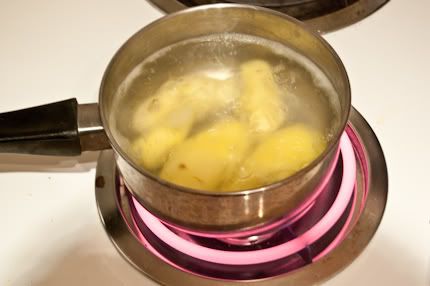 Cook your potatoes. This should take about 10 minutes.
While the potatoes cook, chop your onions. Since I wasn't going to sautee them, I cut them very thinly instead of the 1/2 inch recommended in the recipe. Also, since I was only covering half the pizza (Pranas hates onions), I used less than half the onion.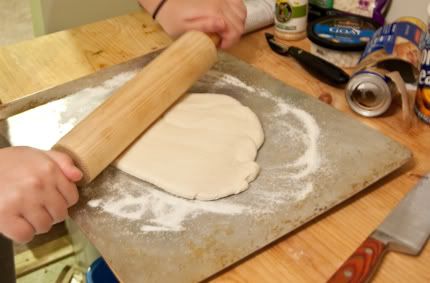 Now, open your pizza dough and roll it out. You can do it on a floured surface but because of the lack of space in my kitchen and the lack of motivation to do even more dishes, I just did it right on the baking sheet. I spread out some cornmeal on the baking sheet first.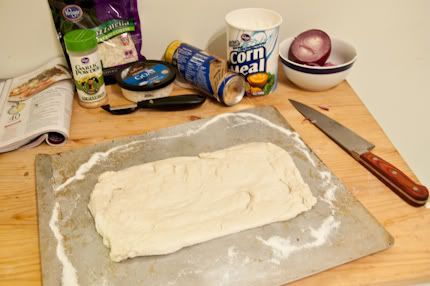 Try to shape it into something vaguely rectangular. It might be a little difficult, so you're probably going to have to shape it with your hands. I did a lot of stretching of the edges with my fingers because the dough is so elastic. A short rest period may also help this problem.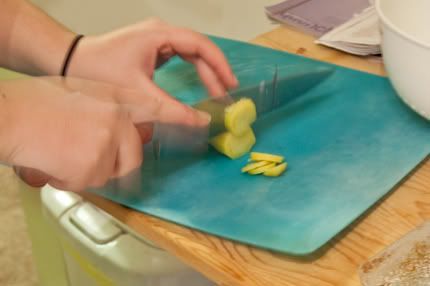 Your potatoes should be done by now, so take them off the heat and drain them. Then slice them—mine were about 1/4" thick. They should be pretty tender and easy to slice. If they're not, you haven't cooked them long enough!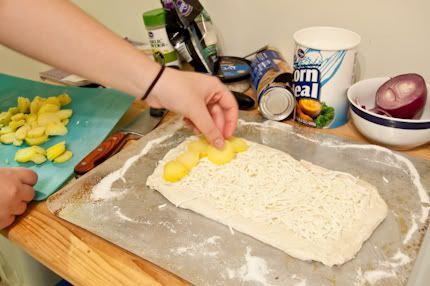 Sprinkle your mozzarella cheese down over your crust. Then, arrange the potato slices on top. You can do it randomly but I'm a little OCD so I arranged them all neatly in rows like so.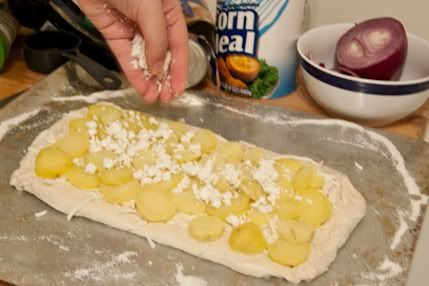 Sprinkle your goat cheese crumbles on top. You can buy the goat cheese pre-crumbled (in fact, that's the only way they sell it at my grocery store), so it saves you a step.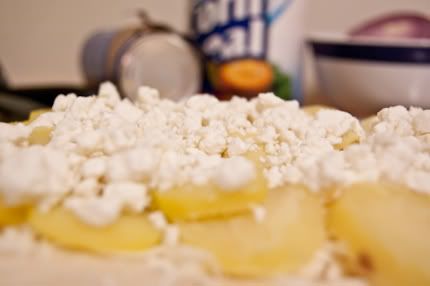 Don't be afraid of the goat cheese. It's extremely creamy and has a bit of a sharp tang to it. It's really delicious with the tender, starchy potatoes and the creaminess of the mozzarella—plus it balances out the slight sweetness of the crust and onions perfectly.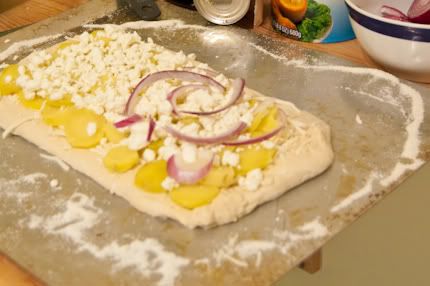 Place your sauteed (or raw) onion slices on top…and only on half of the pizza if you have a picky eater in the house. At this point I also sprinkled on the garlic powder since I didn't have fresh garlic.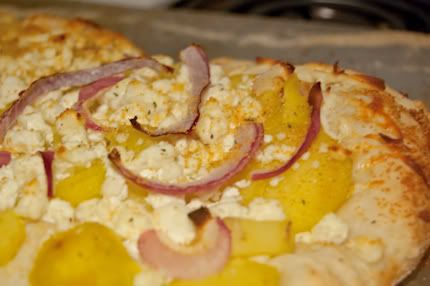 Bake for 15 minutes in the bottom third of the oven at 450 and it'll come out looking like this. Amazing.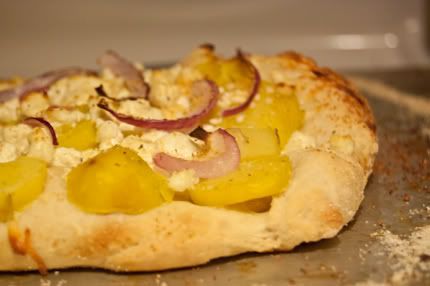 I can't even describe to you the deliciousness of this pizza. The combination of ingredients is so unexpected and perfect. You must try it. An added bonus is the fact that this recipe is super easy, I promise. It only takes about 30 minutes total and it's completely worth it.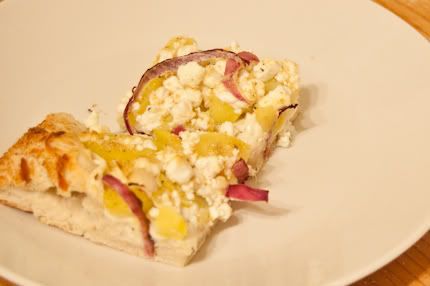 It's also really pretty. :)